Advertisement
I had a zucchini left over I needed to use up and thought I would make up some easy zucchini chips! These are so good and another great thing to use my air fryer for!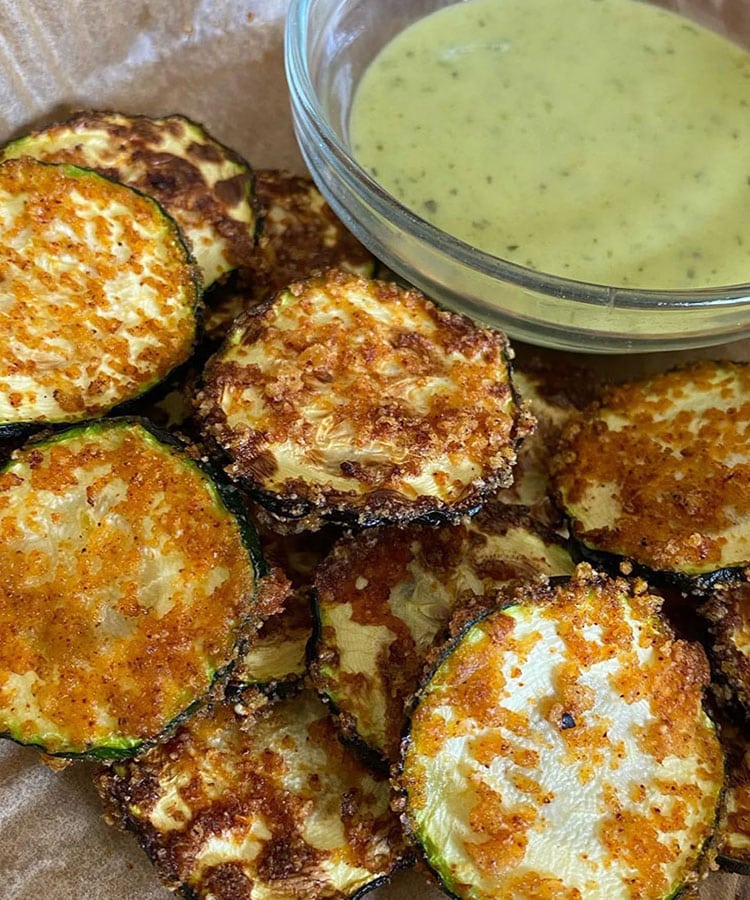 Servings: Makes 2 servings.
2 Points per serving
Advertisement
I add every day new Weight Watchers recipes, so check back often!
My site is not affiliated with Weight Watchers in any way. I just love creating healthier recipe options. I don't give any advice on diet or eating habits.
Double-check points on the official calculator.
HOW DO I MAKE MY AIR FRYER PARMESAN ZUCCHINI CHIPS?
1. In a small container or Ziplock bag (which works better for me), add bread crumbs, parmesan cheese garlic and black pepper.
2. stir or mix together well.
3. In another small container, beat the egg.
4. Wash and slice up zucchini into 1/8th inch thick slices.
5. Preheat the air fryer to 400.
6. Dip zucchini slices into egg and then coat with breadcrumb mixture.
7. Lay on a piece of parchment paper, you will have to do them in batches.
8. Put slices in an air fryer basket in a single layer, without any of them touching so that the air is free to flow.
9. I used a silicone liner in my air fryer basked that I also sprayed with cooking spray to prevent sticking.
10. Air fry at 400 for 5-6 minutes or until golden brown.
11. To do these in the oven, bake at 425 on a cookie sheet for about 15 minutes, flip and then cook for an additional 10-15 minutes.
Continue on to the next page for the list of ingredients and print the recipe
Advertisement