Advertisement
This Weight Watchers-friendly version of Pretzel Salad is a great summer dessert, delicious and easy to make.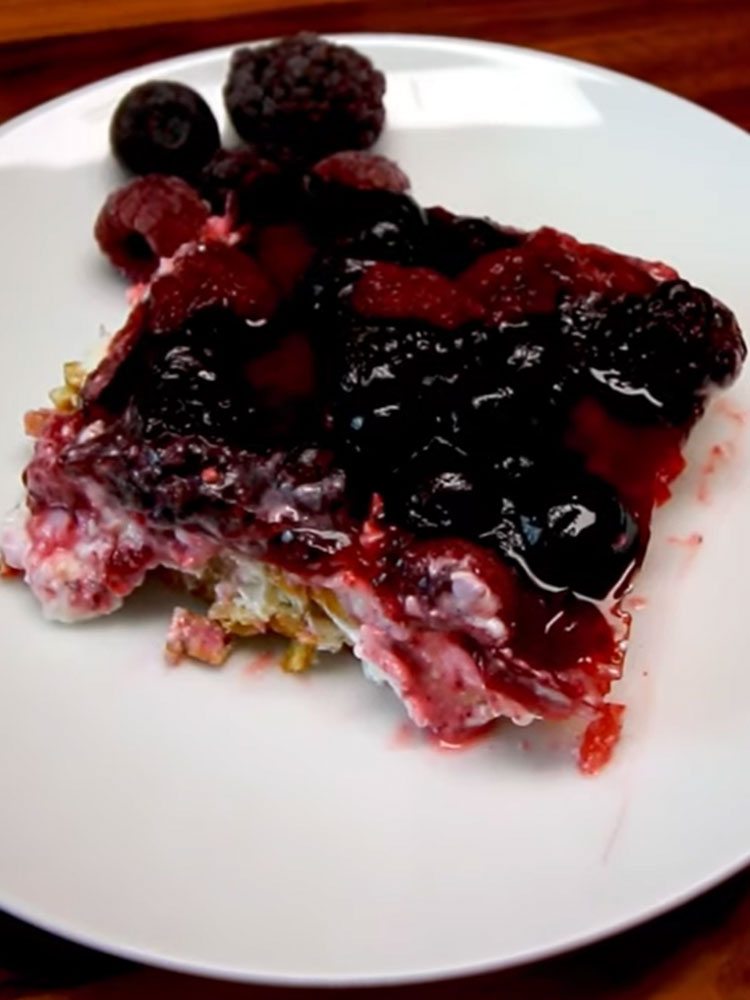 Servings: Makes 12 servings
5 Points per serving
Advertisement
HOW DO I MAKE MY TRIPLE-BERRY PRETZEL SALAD?
1. Heat water until almost boiling and stir in a Jello packet.
2. Set aside and let reach room temperature.
3. Roughly break up your pretzels, I did this by putting them in a ziplock bag and hitting them with a rolling pin but you could use a food processor also.
4. Add melted butter spread and the 2 Tbsp of sweetener to the pretzels and mix well.
5. Press the pretzel mixture in a 13-inch pan, bake at 350 for 10 minutes.
6. Let cool for 1-2 hours.
7. For the filling, mix together cream cheese and remaining sweetener until well combined.
8. Fold in whipped topping.
9. Spread mixture evenly over cooled pretzels, making sure to get it all the way to the edges so jello won't seep down to the pretzels.
10. Refrigerate for about an hour.
11. Top with berries and pour room-temperature jello on top.
12. Cover with plastic wrap and refrigerate until jello is set up, or overnight.
Continue on to the next page for the list of ingredients and print the recipe
Advertisement