Advertisement
Easy Taco Salad WW Friendly! I made a couple of changes to a childhood favorite of mine to make it a WW-friendly recipe. It is a Traditional taco salad recipe, lightened up, but tastes just as good as the original. My whole family loves it!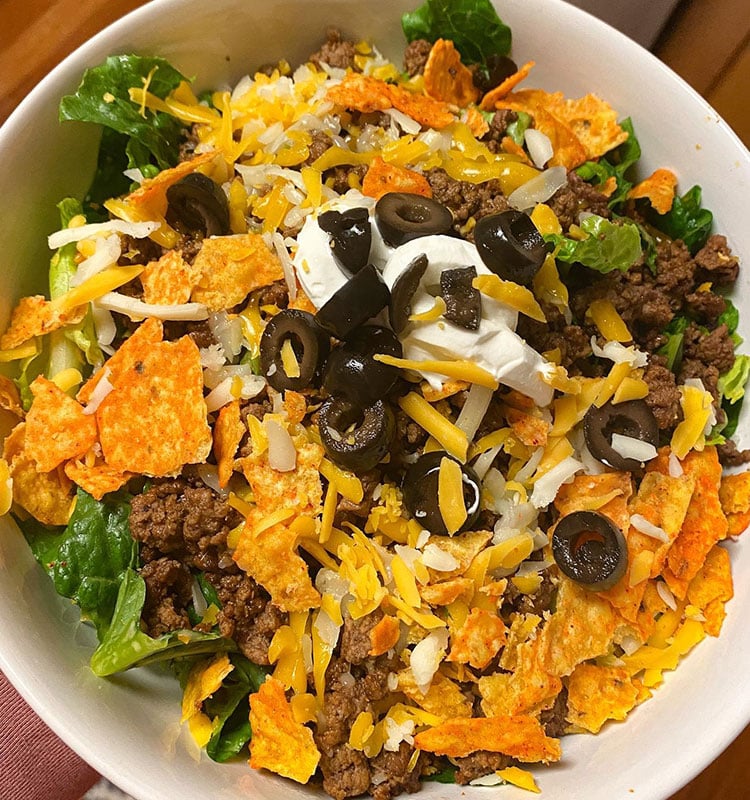 Servings: Makes 14 servings
4 Points per serving (1 cup)
Advertisement
I add every day new WW recipes, so check back often!
My site is not affiliated with Weight Watchers in any way. I just love creating healthier recipe options. I don't give any advice on diet or eating habits.
Double-check points on the official calculator.
This Weight Watchers Dorito Taco Salad is probably one of my favorite salads ever!
HOW DO I MAKE MY DORITOS TACO SALAD?
1. Cook turkey in a large pan on medium heat until cooked.
2. Add in taco seasoning, Rotel, black beans, water and cook an additional couple of minutes.
3. Take off the heat and set aside.
4. Crush Doritos to the desired size.
5. Mix together all the remaining ingredients in a large bowl.
6. Top with Greek yogurt. If you aren't going to eat it all in one sitting, I recommend adding the Doritos to the individual servings so that they don't get soggy!
Continue on to the next page for the list of ingredients and print the recipe
Advertisement