This Weight Watchers-friendly Chicken Alfredo is tasty and filling making it a great dinner recipe for anyone following the WW points plan.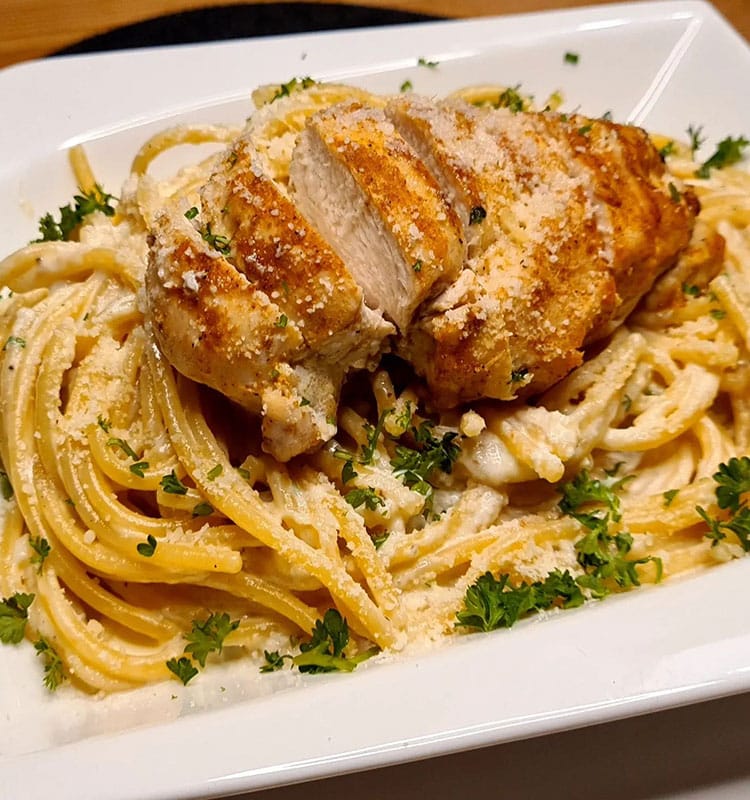 Servings: Makes 4, servings of 1 1/4 cup pasta and 1/4 of the chicken.
9 Points® per serving
I add every day new WW recipes, so check back often!
My site is not affiliated with Weight Watchers in any way. I just love creating healthier recipe options. I don't give any advice on diet or eating habits.
Double-check points on the official calculator.
HOW DO I MAKE MY SKINNY CHICKEN ALFREDO?
1. For the chicken, spritz both sides with olive oil and sprinkle with salt, Italian seasoning, granulated garlic and place chicken in a large Ziploc bag or covered container and let marinate for 30 minutes to 4 hours.
2. To grill the chicken, preheat the grill to medium heat and cook for approximately 6 – 8 minutes per side, depending on the thickness of the chicken.
3. It is done when the internal temperature of the chicken reaches 165 F.
4. Remove the chicken from the grill and let it rest for five minutes.
5. You can also bake your chicken in the oven at 375F for 45-60 minutes, depending on the thickness, or until it reaches an internal temp of 165F.
6. In a skillet, heat olive oil over medium heat, add garlic and cook until it is fragrant.
7. Whisk milk and cornstarch together in a small bowl.
8. Stir in chicken broth and milk and cornstarch and whisk well.
9. Let cook on medium heat, stirring often, for about 10-15 minutes or until it starts to thicken.
10. Cook pasta according to the instructions for Al Dente.
11. Then drain and set aside when it is done.
12. You can keep a little water in case you need to think about your sauce later.
13. I didn't need to this time.
14. Once your sauce has thickened, turn the heat to low and add pepper, nutmeg and parmesan cheese and whisk in.
15. Let it cook for another 5 minutes or so or until the cheese is fully melted and the sauce has thickened to desired consistency.
16. Add in pasta and toss until pasta is covered with the sauce.
17. You can either chop and add the chicken in or slice it up and place it on top of the pasta.
18. Garnish with parsley if desired.
Continue on to the next page for the list of ingredients and print the recipe