Advertisement
These Weight Watchers Cheeseburger Crunch Wraps are a classic dish that everyone loves, they are so delicious and guilt-free way to enjoy all the flavors of a cheeseburger without the added calories.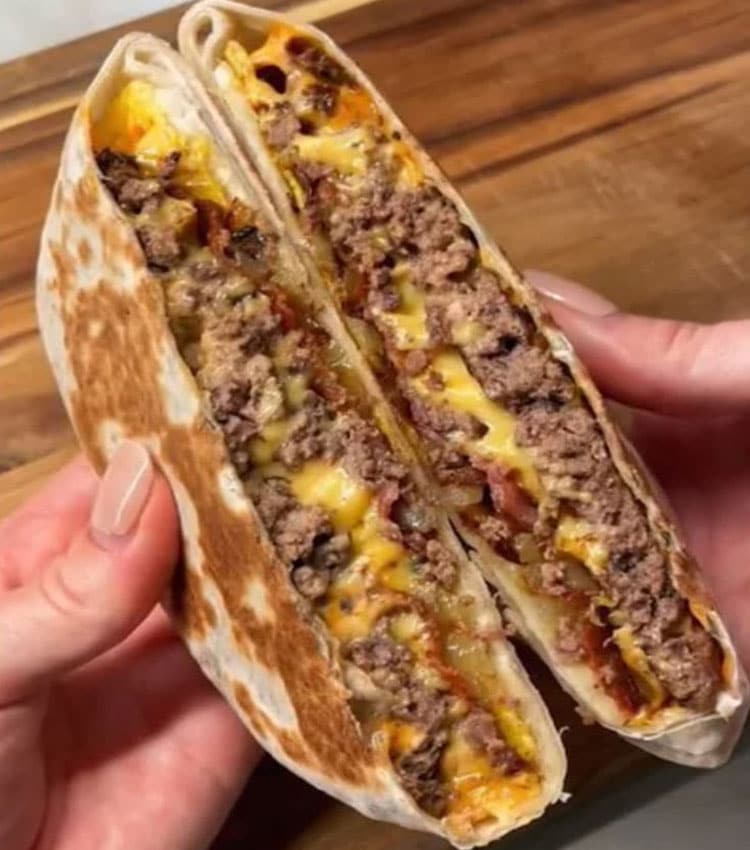 Servings: Makes 4 servings
2 WW Points® per serving
Advertisement
I add every day new Weight Watchers recipes, so check back often!
My site is not affiliated with Weight Watchers in any way. I just love creating healthier recipe options. I don't give any advice on diet or eating habits.
Double-check points on the official calculator.
HOW DO I MAKE MY CHEESEBURGER CRUNCH WRAP RECIPE?
1. Preheat a large skillet over medium-high heat.
2. Then cut 1 tortilla wrap into quarters and arrange it in the pan.
3. Toast the tortilla quarters for 1 minute on each side.
4. Let the tortilla quarters cool to room temperature.
5. Spray a large skillet with cooking spray and preheat it over medium-high heat.
6. Then add ground beef, onion, salt, and pepper to the skillet and cook for about 5 minutes until the beef is browned and the onion is tender.
7. Let the beef mixture cool slightly.
8. Preheat the cast-iron skillet over medium heat.
9. Spray one side of a tortilla with cooking spray and spread a teaspoon of mustard across the center of the shell.
10. Spoon about half a cup of the beef mixture onto the center of the tortilla, leaving a 1½-inch border.
11. Layer half a cup of cheese, half a cup of tomato, two teaspoons of pickles, and half a cup of lettuce over the beef mixture.
12. Place 1 toasted tortilla quarter on top and fold the sides of the tortilla toward the center to form pleats that cover the toasted tortilla quarter.
13. Be careful when you flip the wrap over and place it in the heated skillet.
14. Toast the wrap for about two minutes on each side, pressing occasionally with a spatula.
15. Repeat the process with the remaining ingredients to form 4 crunch wraps in total.
Continue on to the next page for the list of ingredients and print the recipe
Advertisement