Advertisement
This Weight Watchers Strawberry Cake Recipe is super easy to make and tastes delicious!! Low in Weight Watchers Points and a perfect wintertime cake.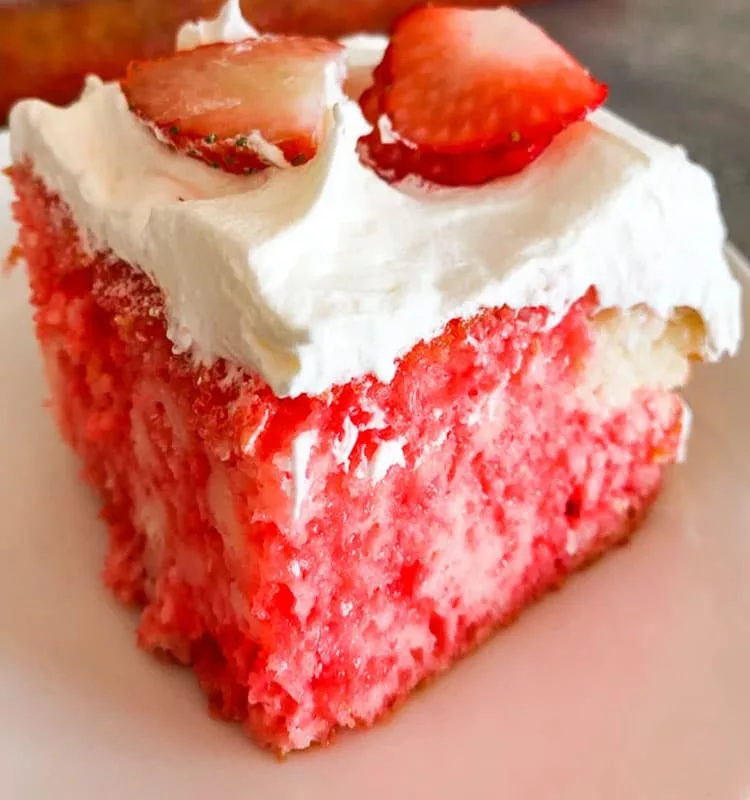 Servings: Makes 18 servings
3 Points™ per serving
Advertisement
I add every day new WW recipes, so check back often!
My site is not affiliated with Weight Watchers in any way. I just love creating healthier recipe options. I don't give any advice on diet or eating habits.
Double-check points on the official WW calculator.
HOW DO I MAKE MY STRAWBERRY CAKE?
1. Whisk together the cake mix and Diet 7 Up In a medium bowl until smooth.
2. Using non-stick cooking spray, spray a 9 x 13 baking pan then add the batter.
3. Cook the cake according to the directions on the box.
4. Take it out of the oven and allow it to cool for 15 minutes.
5. Boil 1 cup of water while the cake is cooling.
6. Then add the boiling water to the Jell O.
7. Stir until completely dissolved (3 minutes).
8. Then add 1 cup of cold water and stir.
9. Poke holes into the top of the cake using a fork.
10. Pour the Jell O evenly over the cake.
11. Refrigerate for 3 hours.
12. Spread Cool Whip across the top then serve.
Advertisement