Advertisement
This Weight Watchers Chicken Alfredo recipe is tasty and filling making it a great dinner recipe for anyone following the Weight Watchers Points Plan.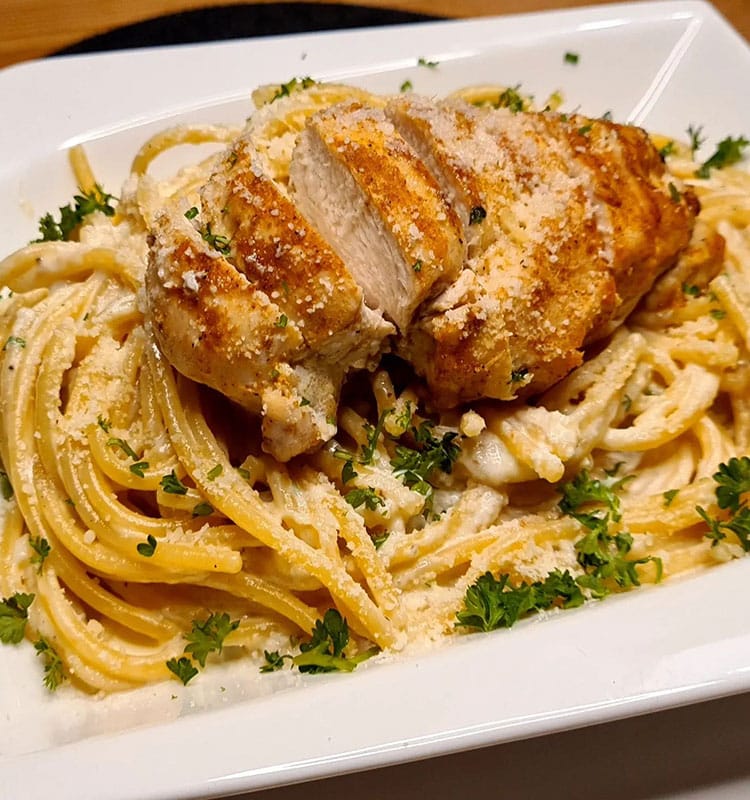 Servings: Makes 8 ( 1 and 1/3 cup) servings
7 Points® per serving
Advertisement
I add every day new WW recipes, so check back often!
My site is not affiliated with Weight Watchers in any way. I just love creating healthier recipe options. I don't give any advice on diet or eating habits.
Double-check points on the official calculator.
HOW DO I MAKE MY CHICKEN ALFREDO?
1. Cut chicken breasts into pieces.
2. Season with salt and pepper.
3. Spray a large stock pot with non-stick cooking spray over medium-high heat.
4. Sauté the chicken pieces for about 5 minutes until nicely brown on the outside then remove the chicken from the skillet and set aside on a plate then add them back with the unsweetened almond milk.
5. In the same pot add the butter and garlic and cook for 30 seconds until butter melts.
6. Then add the chicken broth and bring to a simmer for 5 minutes.
7. Reduce heat and add the pasta.
8. Stir occasionally for 2 minutes, or until the pasta just begins to bend and soften.
9. Cover with a lid and Continue to cook for about another 5-7 minutes, while stirring occasionally, until the pasta is cooked and al dente.
10. In the meantime, warm up the unsweetened almond or skim milk in the microwave for 20 to 35 seconds – then whisk in cornstarch.
11. Then pour the unsweetened almond and the chicken pieces into the pasta pot.
12. Cover and simmer for about 5 minutes, stirring occasionally, until the pasta is tender, and most of the liquid has been absorbed.
13. Add in the Parmesan and continue stirring until all ingredients are well incorporated.
14. Remove from heat. The sauce will continue to thicken.
15. Garnish with bacon crumbles and fresh parsley, if desired.
16. If needed, add additional salt and pepper.
17. If you're not serving immediately, the sauce will become thicker and you may add some milk to thin it out.
Continue on to the next page for the list of ingredients and print the recipe
Advertisement