Advertisement
Chicken Enchilada Casserole WW (Weight Watchers) I tried out a new WW recipe that I made a few changes, to lower the points and make it more to our liking!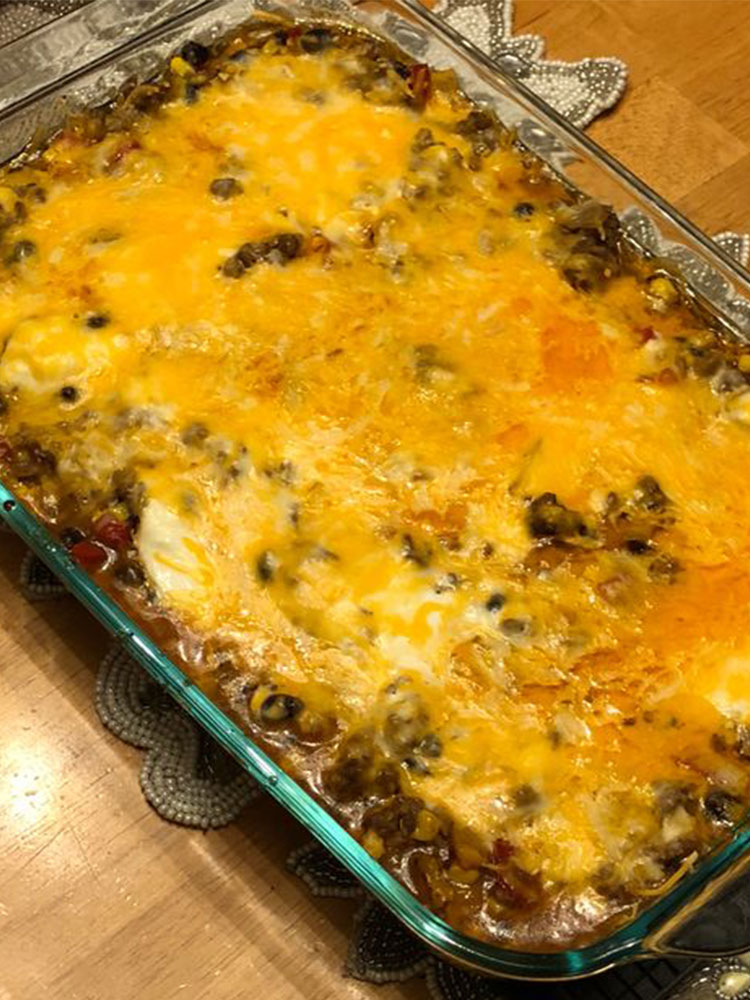 Servings: Makes 8 servings
5 Points® per serving
Advertisement
I add every day new WW recipes, so check back often!
My site is not affiliated with Weight Watchers in any way. I just love creating healthier recipe options. I don't give any advice on diet or eating habits.
Double-check points on the official calculator.
HOW DO I MAKE MY CHICKEN ENCHILADA CASSEROLE?
1. Prepare enchilada sauce by adding 3 cups of water, and tomato paste and mix into a small pan.
2. Stir and let come to a simmer.
3. Continue to simmer for about ten minutes.
4. On medium heat and in a large saucepan, heat the olive oil.
5. Then add onion, pepper, garlic and cook, stirring until translucent, about 5 minutes.
6. Remove roughly 2/3 of the onion mixture and place it in a large mixing bowl, set aside.
7. Stir 2 cups of water into the remaining onion mixture in the pan, and let it come to a boil.
8. Add beans, corn and chicken into the reserved onion mixture and mix together.
9. In another medium bowl, add cornmeal to the remaining 1 1/3 cups of water and stir to combine.
10. Gradually pour the cornmeal mixture into the boiling water-onion mixture.
11. Cook over low heat, stirring constantly until cornmeal is thickened, about 5 minutes.
12. Then spray a 9×13 baking dish with cooking spray.
13. Spread the cornmeal mixture evenly over the bottom of the dish.
14. Spread half of the enchilada sauce over the cornmeal layer.
15. Top with all of the bean mixture and then the remaining enchilada sauce.
16. Add the cheese evenly to the top.
17. Bake until heated through and cheese is melted about 45 minutes.
Continue on to the next page for the list of ingredients and print the recipe
Advertisement