Advertisement
These Weight Watchers Cinnamon Streusel Muffins are easy to make, light and perfectly sweet with a cinnamon sugar streusel topping-this is the perfect coffee cake muffin recipe you'll make ever!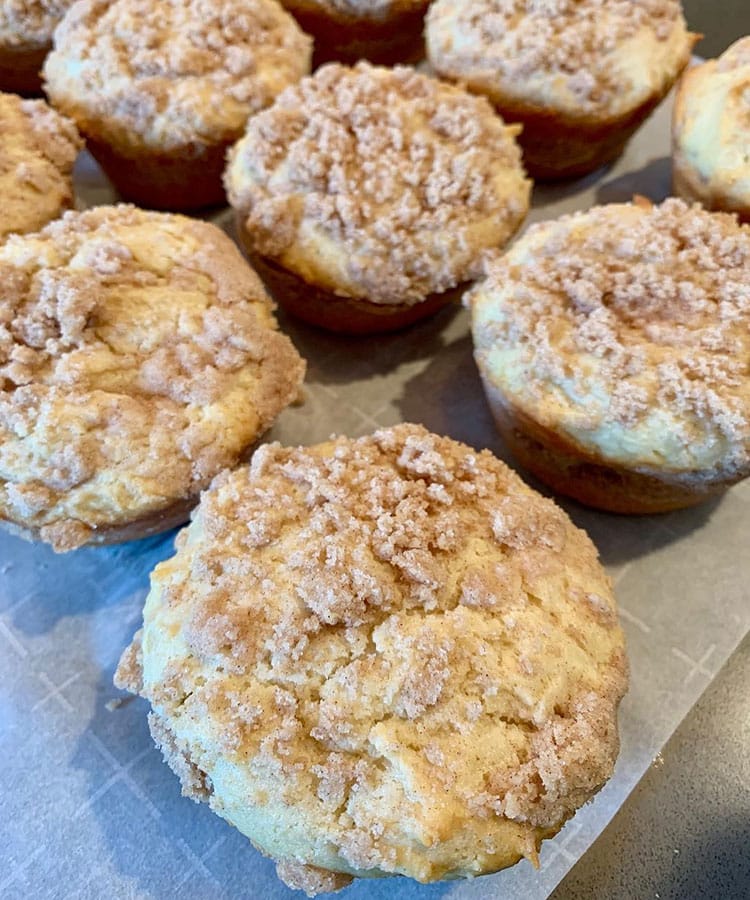 Servings: Makes 12 regular-size muffins
2 Points™ per muffin.
Advertisement
I add every day new WW recipes, so check back often!
My site is not affiliated with Weight Watchers in any way. I just love creating healthier recipe options. I don't give any advice on diet or eating habits.
Double-check points on the official calculator.
How Do I Make My Cinnamon Streusel Muffins?
1. Preheat the oven to 375 degrees.
2. Spray a 12-cup regular-size muffin pan with non-stick cooking spray or line the muffin tin with foil liners.
3. Add the pancake mix or flour, cinnamon, and baking powder to a large mixing bowl. Whisk to combine.
4. Add the egg, vanilla extract, unsweetened applesauce, almond milk, and white and brown granulated sweetener in a separate bowl. Whisk until just combined.
5. Then add the wet ingredients to the dry ingredients gradually.
6. Stir until JUST combined. TIP: Over-mixing the batter will cause the muffins to be tough, bake unevenly, creating elongated holes, and/or forming peaked tops.
7. Scoop batter evenly among prepared muffin pan.
8. Fill each one up slightly more than half.
For the topping:
1. combine the flour, regular sugar and cinnamon.
2. Cut the soft butter into the mixture-start with 2 tsp of butter and add more if needed until the mixture resembles coarse crumbles.
3. Sprinkle 1/2 to 1 teaspoon on top of each muffin.
4. Bake for 18-20 minutes then cool for 5 minutes before removing to a wire rack.
5. Let them cool in the pan for 5 minutes before removing them from the muffin tin.
6. Serve warm or at room temperature.
Continue on to the next page for the list of ingredients and print the recipe
Advertisement