Advertisement
Taco Bubble-Up Casserole Ingredients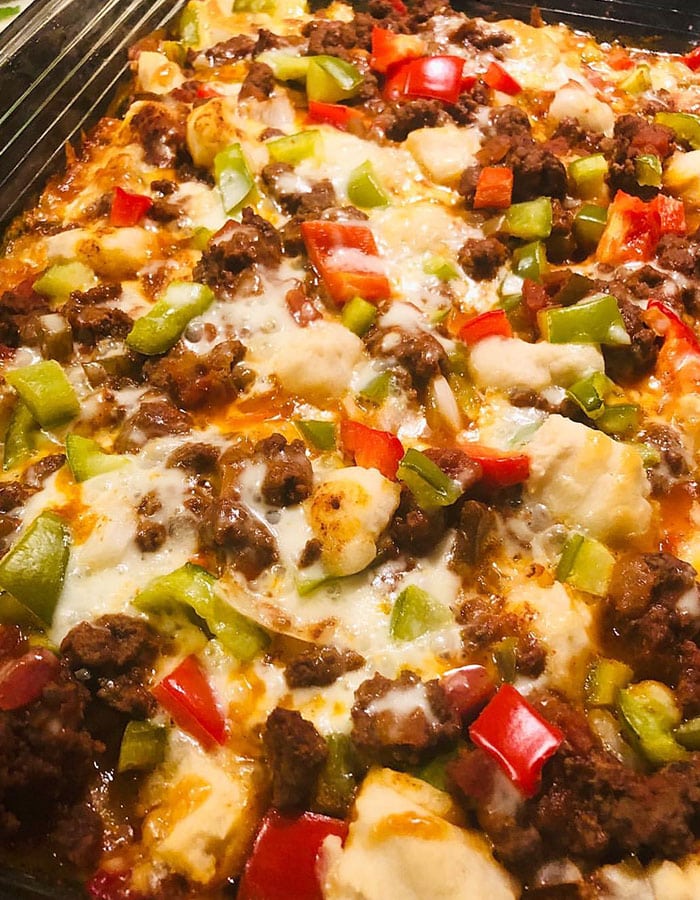 Ingredients:
1 lb cooked extra lean ground beef
1 7.5 oz package of Pillsbury biscuits
1 package Taco seasoning, 30g
1 1/3 cup salsa
Two cups diced peppers I used red, orange and yellow
One cup diced onion I used red onion
One cup reduced-fat shredded cheese I use a 3-cheese blend
Green onion
Fat-free sour cream for topping optional
Instructions:
Advertisement
Cook the ground beef in a pan on the stove then add the taco seasoning and simmer for a few minutes.
Preheat the oven to 350F, spray a size 9×13 casserole dish and set aside.
In a bowl, mix the ground beef and salsa together.
Then cut up the peppers & onion and cut the biscuits into 6 pieces each.
In the bottom of the casserole dish place half of the biscuit pieces, top with half of the meat mixture, half of the peppers and onions and half of the cheese.
Repeat the layers and finish by placing chopped green onions on top.
Cover with foil and bake in the oven for 35 minutes, and then remove the foil and continue baking for 15 minutes.
Let cool for 5 minutes before cutting it into 6 servings.
You can top it with a spoon of fat-free sour cream (optional)
Notes:
Servings: Makes 6 servings
7 Points per serving
Yield: 6
Weight Watchers Friendly Taco Bubble Up Casserole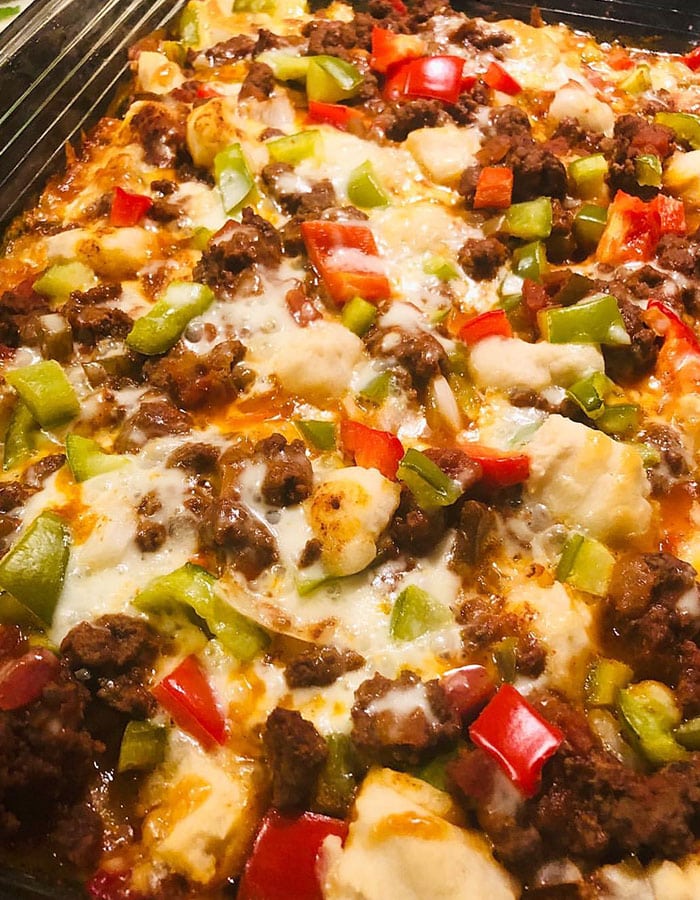 This Weight Watchers Taco Bubble Up Casserole Recipe is easy and tasty and comes together in minutes! This casserole has that classic "make-at-home"
Total Time
1 hour
10 minutes
Ingredients
1 lb cooked extra lean ground beef
1 7.5 oz package of Pillsbury biscuits
1 package Taco seasoning, 30g
1 1/3 cup salsa
Two cups diced peppers I used red, orange and yellow
One cup diced onion I used red onion
One cup reduced-fat shredded cheese I use a 3-cheese blend
Green onion
Fat-free sour cream for topping optional
Instructions
Cook the ground beef in a pan on the stove then add the taco seasoning and simmer for a few minutes.
Preheat the oven to 350F, spray a size 9x13 casserole dish and set aside.
In a bowl, mix the ground beef and salsa together.
Then cut up the peppers & onion and cut the biscuits into 6 pieces each.
In the bottom of the casserole dish place half of the biscuit pieces, top with half of the meat mixture, half of the peppers and onions and half of the cheese.
Repeat the layers and finish by placing chopped green onions on top.
Cover with foil and bake in the oven for 35 minutes, and then remove the foil and continue baking for 15 minutes.
Let cool for 5 minutes before cutting it into 6 servings.
You can top it with a spoon of fat-free sour cream (optional)
Notes
Servings: Makes 6 servings
7 Points per serving
Nutrition Information:
Yield:
6
Serving Size:
1
Amount Per Serving:
Calories:

230
Total Fat:

7g
Saturated Fat:

3g
Trans Fat:

1g
Unsaturated Fat:

10g
Cholesterol:

23mg
Sodium:

734mg
Carbohydrates:

37g
Fiber:

4g
Sugar:

3g
Protein:

27g
Advertisement